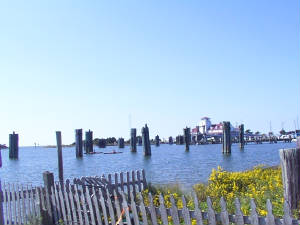 Hotels

Again you get what you pay for there are a lot of
big named hotels there and they are all nice and
you get what you pay for my first choice in hotels
for a short term stay would be Surf Side in Nags
Head. The are ocean front and located in an area
that you can find plenty to see and do, close
enough to shopping and Marinas too.
There are plenty of places to stay yours for the
picking and again you can ask in the message
boards for opinions on a particular place.

There are many real-estate companies to rent from some good and some I have herd that there have been problems with. there are some message boards like the one that I found you in that you might try asking questions with particular companies I know last year after hurricane Isabel some people had problems with getting their money back after loosing their time . My suggestion is to always buy insurance, If and when something happens you have a better chance of getting your money back then just dealing with a real-estate companies or a home owner. Remember they are loosing money too and some times a house, so you insurance is your best bet.

What you rent is what you can afford or you need. Most homes have a limit on occupants and they have been known to check in on people if that limit is not met so dont cheat . How ever I have had a guest stay a night with out any problems but they will know if you over do it.

Be sure to read the rental policy of each realtor they very from one to the other. And be sure you do a good job of cleaning before you leave. so the next guest will find it as you did, and so that you get your deposit back too.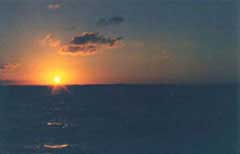 What area should I stay

I guess every one has their favorite area mine in southern Hatteras island or Ocracoke.

Im not a wealthy guy so I stay where I can afford. Ill give you my opinion of the different areas and after you visit a time or two Im sure you will find the area that suits you best.

Im not a fan of the northern beaches above Kill Devil hills , they are way too big for a small family and way out of range for my pocket. However if you got the bucks and a big family there are some real nice places to stay. You can spend $6000 to $ 7000 on a weeks rental but as I have said over and over here you get what you pay for. There are some real nice places up there with in ground pools and all the extras you could think of. The area up there is full of nice boutique type stores over priced and well kept. It really is a nice place to stay but as I said you pay for it.

Kill Devil hills to Nags Head seems to be most popular area for family's and for other things to do other then the beach . There is lost of other things to do in this area from water sports to putt putt golf. However if I were to stay in any of this area I like Nags Head. Mostly because it is close to Origin inlet and many different kinds of places to fish., Bridges beaches, piers ,boats ,and boat rental too.
Im not a fan of Kill Devil Hills , it kinda old and run down. in my opinion. however there are plenty of new homes going up in that area I find most to be not to my liking. When ever renting a home be sure to read what it has, you always want central air conditioning or at least a window unit in several rooms. Your best shopping areas are from KDH to Nags Head as are a variety of restaurants, from fast food to upscale eating as well as night time entertainment. There are plenty of nice places to stay in KDH I have friends that rent there every year and love it but every one finds a place eventually that they like the best.


Going south of Nags Head to Hatteras Island there are less things to do not to say there is nothing, but its less crowded less traffic and not as many on the beaches either. However there are fewer beaches that are guarded too if that is a concern .Rodanthy ,Waves, Salvo are nicely located so if you should like to go back up north to shop its not such a long drive. there are plenty of places to eat . Farther south is Avon . I use to stay here on the sound side there are some real nice sound side places here with small docks for a boat if you bring one or rent one. South of Avon there is a nice sound side beach called Haul Over, AKA Canadian Hole. It known for the wind surfers but there is a nice beach shallow water great place for kids who dont swim too well no currants or waves. there is a parking lot there too.

Next town is Buxton This is where the cape Hatteras light house is . A nice older town but it took a hit from hurricane Isabel so right now there is a lot of rebuilding going on from here to the ferry docks at Hatteras village The Frisco area is another of my favorite spots too It is located half way between Cape Point and Hatteras inlet, two popular fishing spots. If there is not much going on at one place as far as fishing there is the other to try. However both places require 4 wheel drive to access. Cape point is a great place to go even if you are not fishing, just to watch the combat fishing at the point. It is some times shoulder to shoulder fishing there a even if you dont fish I find it fun to watch.

Once at the end of the island you can ride a free ferry to Ocracoke. My most favorite place to be, However Ocracoke is a place you either love or hate. Its a sleepy little fishing village loaded with history from Pirates to World War 2 history . Lots of nice homes there some old some new. Several hotels and condos to stay at. Bring a bike its the best way to enjoy the village.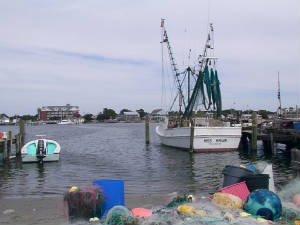 Four Wheel drive area up north.
The 4 wheel drive area has limited access roads or you have to drive on the beach to get to the homes. Some are as close as a mile or as far away as 12 miles. Driving through the sand can be challenging. read the link to driving on the beach. It's easier to drive at low tide when you can drive on the packed sand. You MUST have a 4 wheel drive vehicle , not convenient to shopping or restaurants. You'll see wild horses every day. Rental prices are slightly less but you get what you pay for. I ventured up there in the summer of 2007, It's not someplace I would recommend. Although the homes are all very nice but so remote from everything , I found the beach during mid day too crowded with cars to enjoy it, I'm sure this changes with the seasons but in my opinion if you have young ones you would need to watch them all the time. None of the homes are right on the beach but over the dunes, the roads back between the home are not maintained very well but are passable , and the ponies run wild back there so if your home doesn't have a fenced yard you likely to have houses rooming threw your yard . I'm sure every one has their own opinion on this area and if you like remoteness it might do for you but not for me , this might be because I live in a remote are myself and going to the beach is a nice change , I would like to recommend you visit this area in just to see the ponies Twiddy reality has some home up there you can look threw their site to give you some ideas of what your going to get. They also have some pictures too.