I have camped all up and down the beach I am a Tent camper. I'll give you What I think of most of the places I have stayed.


The NPS camp grounds are all nice but you have no hook ups of any kind. and cold showers. That's OK in the summer but when its cool I prefer a warm shower. I find them all open and very little privacy between sites, it is like camping in a field. If you have a pop up or motor home they might be tolerable ,but they are not my cup of tea.



Cape woods in Frisco is nice but centrally located so no water access except for there own lake. Hatteras Sands is a nice location but in my opinion is a good place if you a trailer camper or motor home. also no water access.



There are two on Ocracoke, neither I find accommodating to tents, But if you just need a place to stay they will do. My vote would be for Teeters, they do have some trees, but in the event of rain I saw very little drainage , so expect to see some water in your tent.
However for a motor home or trailer they can be very accommodating. The NPS camp ground on Ocracoke is a ways out of town, as opposed to the others that are in town.


There is one in Kitty Hawk I have never tried but it looks good called Adventure Bound Campground its off the beach and a bit wooded from what I can tell, it is tents only and the only camp ground that will allow camp fires.. If any one stays there send me a review I'm going to try to stop by there this year to check it out, More later on that
Trees make in easy to tie off to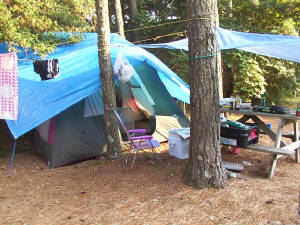 in the event of thunder storms